Sri Sathya Sai Sadguru Stotram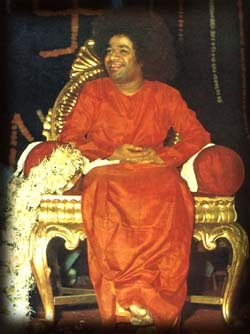 A Hymn Composed by Karan, Krishna, and Shiv Dewan
On this most auspicious occasion of Sri Ganesh Chaturthi, we offer at His Divine Lotus Feet a Sanskrit composition entitled "Sri Sathya Sai Sadguru Stotram." The inspiration for this stotram came from an audio clip of Sri Ghantashala, the great singer of the yesteryears, singing a stotram in praise of Bhagwan in 3 stanzas. These 3 stanzas have been expanded to nine verses with the addition of six verses. These words inspired by Bhagwan praise Him as the Guru of Gurus, the fullness of Divinity incarnated in human form to redeem each of us. We pray to Bhagwan that His Divine prescence fill listeners with peace and joy, and to bless each one with the gift of His grace. Jai Sai Ram.
Note: If the audio does not play, kindly download the Java software from the following webpage: http://java.com/en/download/
Akhanda bodha roopinam ananta paapa haarinam
Ananya bhaktha toshanam apaara shakthi kaaranam
Ananta chit vilaasinam asanga yukti bhooshanam
Manushya vesha dhaarinam namaami Sai Sadgurum
Embodiment of immense wisdom and annihilator of infinite sins
Inimitable bestower of happiness and great powers to His devotees
Playful with infinite conscience yet endowed with skillful unattachment
Salutations to that Sadguru Sai, who wears the vesture of a human form
Anadhva moksha daayakam achintya shakthi naayakam
Kripaakataaksha saayakam kavindra hryd vidhaayakam
Pavitra chitta chorakam prahrusta bhaktha dhaarakam
Parengitagnyam uttamam namaami Sai Sadgurum
Giver of liberation beyond material aspects and master of incomprehensible powersz
Merciful lord who empowers the hearts of visionaries
Churner of purity in conscience and bearer of devotees' burdens
Salutations to that Sadguru Sai, the beautiful Lord of Parthi
Samastha loka vaasinam munindra hrynnivaasinam
Apoorva kaanthi bhaasinam adhrushta poorva veshinam
Atendriatma gocharam akuntitha prabhaavaham
Ameya dheera poorusham namaami Sai Sadgurum
Indweller of all the worlds and the hearts of the seers and seekers
Reflector of unperceivable resplendent effulgence
Enabler of perception of supreme self with unconstricted influence of the self
Salutations to that Sadguru Sai, the One with supreme presence
Purana veda poshanam prasaanthi dharma sthaapanam
Manoharoopa sundaram prasanna vadana bhaasinam
Caturdasena vyaapinam karunya prema vrishtinam
Prasanthi Nilaya vaasinam namaami Sai Sadgurum
Fosterer of the puranas and vedas, the one who establishes supreme peace and righteousness
With an enchanting, beautiful form and a shining, pleasant face
The one who pervades the four directions, who showers the rains of compassion and love
Salutations to that Sadguru Sai, the resident of Prasanthi Nilayam
Samartha aadi raajanam varenya purna yoginam
Ekatva sutra bodhakam vedaanta saara sikshakam
Vicitra leela kaarinam vapusya mahima vigraham
Niraamayam niranjanam namaami Sai Sadgurum
The Supreme king, the fullest and best among Yogis,
The teacher of the principle of oneness who teaches the essence of Vedanta,
The enactor of mysterious miracles, the one who performs beautiful acts
Salutations to that Sadguru Sai who is untainted and spotless.
Sarvaavatara moorthinam sarve vibhuthi saayudham
Dayaa amukti dhaarakam viveka buddhi dhaatrakam
Vishuddha turaga vaahanam sthaveera sena paalakam
Smaraami Kalki Saisham namaami Sai Sadgurum

The embodiment of all avatars, armed with all divine powers
Donning the armor of compassion, the giver of discrimination and intellect
Riding on a pure horse, the guardian of His powerful army,
Salutations to that Sadguru Sai, who is verily Kalki Himself.
Atirna prema daayakam madhurasa maatru roopinam
Bhakthaartha purti kalpavriksha kaamadhenu devatam
Omkaara naada ghoshanam bhagavad geetha gaayakam
Nighushta saama samhitam namaami Sai Sadgurum
The granter of endless love, the embodiment of sweet motherly love
The one who fulfills the wishes of devotees, He is the Lord who is the wish-fulfilling cow and tree
The one who echoes the sound of Omkar, who sings the Bhagavad Geetha
Salutations to that Sadguru Sai, the embodiment of sound and the Sama veda
Brahmaanda vishwa naayakam Hiranyagarbha roopinam
Maraala kamala paadhukam suvarna mukha sushobitham
Anagha upendra pratyayam amogha sargha sambhavam
Swayambhu sarva sreshtinam namaami Sai Sadgurum
The Lord of the universe who is verily the form of Hiranyagarbha,
The one with tender lotus feet and a golden-complexioned face
The one who is pure, who is Narayana Himself, the seed of all creation, who gives to all devotees, the personification of creation, the one who is existence itself
Salutations to that Sadguru Sai who is self-created and who is the most supreme
Jayatu jayatu Sathya Sai Easwaramba vallabham
Jayatu Jayatu  Sathya Sai Kali Yugaavatarinam
Jayatu Jayatu  Sathya Sai Sarva Mangala Pradam
Jayatu Jayatu  Sathya Sai Sadgurum Namaamyaham…Sai Sadgurum Namaamyaham
Glory to Sri Sathya Sai, dear to Mother Easwaramma
Glory to Sri Sathya Sai, the Kali Yuga Avatar,
Glory to Sri Sathya Sai, the granter of all auspiciousness,
Glory to Sadguru Sri Sathya Sai to whom I offer my salutations.